Key Chains
Honestly everybody loves have a unique Key Chain that speaks to them. In fact these whimsical carved bone key chains scream Alaska. If you have a little piece of Alaska in your heart and you wish to share it with everybody. Look no further than here. In addition these wonderful gifts are decorated with unique carved bone charms that come in many different styles. Each one is carved from real bone. The carved bone charms are accompanied by brilliant glass beads and beautiful frosted sea glass beads.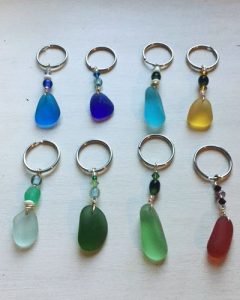 every Key Chain  is unique…
Each one of these gifts are unique and has a little touch of Alaska in it. In fact each Key Chain is adorned with hand carved bone pendants. Each charm captures the images of many of Alaska's denizens.
Alaska's wildlife brought to life in carved bone.
First up are a collection of bears. As a matter of fact we have Brown Bear, Polar Bear and Zuni bear Key Chains. Second on the list are the aquatic denizens of the great white north. We have the playful Dolphin as well as the Salmon, Halibut and Whale Tail charms. Third on the list is the majestic eagle brought to life in this hand carved bone charm. Fourth up is the Real Wolf Tooth Key Chain. You heard me. This Key Chain is in fact decorated with a Real Wolf Tooth for when you are feeling a little wild. Finally we have Key Chains with beautiful Sea Glass in many wonderful colors. Honestly you should start your Carved Bone Key Chain collection today!

buy Key Chains online wholesale
Customers looking to buy Key Chains online at wholesale prices have come to the right place. Sign up today for our wholesale program and begin enjoying savings, savings of up to 50% on all of our wonderful products.